Freeplay 2020 Non-Digital Game Award
---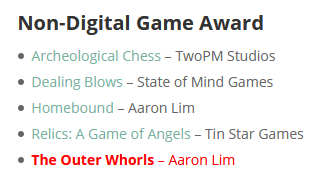 I'm very happy to announce that The Outer Whorls won the 2020 Freeplay Non-Digital Game Award this past weekend.

Freeplay is my favourite games event, and I always look forward to it every year, so it means a lot to me that The Outer Whorls has won this recognition.

I also want to shout out the other amazing nominees in the awards this year, and I highly encourage you check them out as well.